Mini-Conference: Accoustics in Churches and other Parish venues
This conference is a part of our Erasmus+ project "Parttaking is Possible – Church without Barriers", a joint project with pqrtner organisations from Swweden, Norway, Germany, Poland and France.
We this time focus on those problems caused for hard of hearing people due from bad accoustic environments in churches and other parish meeting venues.
Even the so-called normally hearing are suffering from bad accoustics. What can be done to improve the situation? What measures can be taken? Everybody will profit from an improved and healthy accoustic environment.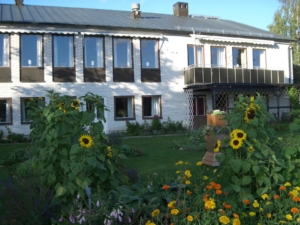 We have invited one lecturer, a Lutheran pastor, and former President of IVSS Churchear, Mikael Henning, being severely hard of hearing himself, as well as two, Ove Svanhede and Erik Ankarberg, who are working with this topic professionally.
The conference wil take place in the beautiful Parish Hall (Församlingshem) of the Lutheran Parish in Stöde. The Pariish Hall is centrally situated in the small town.
The conference language will be Swedish, but those needing it, will be given translations into English or German.
The conference ist cost-free, but all conference attendants must cater for their own trvel and accomodation. There excellent train connections between Stockholm Airport Arlanda and Sundsvall, and from Sundsvall there is a bus service to Stöde.
If you speak or are able to understand Scandinavian, please register by clicking here before august 4th.
If you do not speak nor understand Scandinavian, you must kindly register by email by clicking here before July 4th.
(Sie können hier für eine deutsche Fassung der Konferenzeinladung klicken)